Culinary & Chef Courses in Canada for International Students
Do you want to study for a field in high demand in Canada? Find over 50 Culinary and chef courses for international students in this article for locations across Canada. Restaurants always have a high turnover of kitchen staff and are always looking for cooks and chefs to fill shortages. Become the lifeblood of the kitchen.
The courses below are listed in 2 sections: diploma and certificates and are listed starting with the cheapest study program. As you can see below, College of the North Atlantic's advanced college diploma is only $8250/year for an international student.
To find courses based on various factors, use the search function (Ctrl +F) and type a factor to search, such as a certain location or semester.
College of the North Atlantic (CNA) In Bonavista, Canada
Advanced College Diploma – Cultural Culinary Arts and Tourism
2 year advanced college diploma including a work placement
Tuition: $8,250.00 CAD/year
Starting semester: September (Fall)
Minimum IELTS: 6
2. New Brunswick Community College in Moncton, New Brunswick
College Diploma – Culinary Arts Management
2 year college diploma including a practicum
Tuition: $9,468.00 CAD/year
Starting semester: September (Fall)
Minimum IELTS: Min IELTS overall: 6 (Min Listening: 5.5, Min Reading: 5.5, Min Speaking: 5.5, Min Writing: 5.5)
3. Yukon University in Whitehorse, Yukon
College Certificate – Culinary Arts
1 year college certificate
Tuition: $9,900.00 CAD/year
Starting semester: September (Fall)
Min IELTS overall: 5 (Min Listening: 5.0, Min Reading: 5.0, Min Speaking: 5.0, Min Writing: 5.0)
Holland College – Prince of Wales in Charlottetown, Prince Edward Island
College Diploma – Culinary Arts
2 year college diploma including an internship
Tuition: $11,244.00 CAD/year
Starting semester: September (Fall)
Min IELTS overall: 6.5 (Min Listening: 6.0, Min Reading: 6.0, Min Speaking: 6.0, Min Writing: 6.0)
Coast Mountain College in Terrace, British Columbia
College Diploma – West Coast Culinary
2 year college diploma including work placement
Tuition: $12,502.00 CAD/year
Starting semester: September (Fall)
Min IELTS overall: 5.5 (Min Listening: 5.0, Min Reading: 5.0, Min Speaking: 5.0, Min Writing: 5.0)
Selkirk College in Nelson, British Columbia
College Diploma – Culinary Management (Co-op)- Tenth Street Campus
2 year college diploma including a 4 month work term
Tuition: $15,889.00 CAD/year
Starting semester: May
Min IELTS overall: 6 (Min Listening: 5.5, Min Reading: 5.5, Min Speaking: 5.5, Min Writing: 5.5)
Canadore College in North Bay, Ontario
College Diploma – Culinary Management
2 year college diploma
Tuition: $13,180.00 CAD/year
Starting semester: September (Fall)
Min IELTS overall: 5.5 (Min Listening: 5.0, Min Reading: 5.0, Min Speaking: 5.0, Min Writing: 5.0)
Confederation College in Thunder Bay, Ontario
College Diploma – Culinary Management
2 year college diploma including a field placement
Tuition: $13,302.00 CAD/year
        Starting semester: September
Min IELTS overall: 6 (Min Listening: 5.5, Min Reading: 5.5, Min Speaking: 5.5, Min Writing: 5.5)
Conestoga College in Waterloo, Ontario
       College Diploma – Culinary Management (1026C) (Co-op)
       2 year college diploma including 4 months of co-op
       Tuition: $13,350.00 CAD/year
       Starting semester: September
       Min IELTS overall: 6 (Min Listening: 5.5, Min Reading: 5.5, Min Speaking: 5.5, Min Writing: 5.5)
Saskatchewan Polytechnic in Saskatoon, Saskatchewan
College Diploma – Culinary Arts
2 year college diploma
Tuition: $13,401.00 CAD/year
Starting semester: January
Min IELTS overall: 6.5 (Min Listening: 5.0, Min Reading: 5.0, Min Speaking: 5.0, Min Writing: 5.0)
Humber College in Toronto, Ontario
Chef course in Toronto, Canada
College Diploma – Culinary Management (01911)
2 year college diploma including an optional 7 week work placement
College Certificate – Culinary Skills (14071)
8 month college certificate including an optional 7 week work placement
Tuition: $13,452.00 CAD/year
Starting semester: September
Min IELTS overall: 6 (Min Listening: 5.5, Min Reading: 5.5, Min Speaking: 5.5, Min Writing: 5.5)
Fleming College in Peterborough, Ontario
College Diploma – Culinary Management (CM/CMW)
2 year college diploma including a practicum
College Certificate – Culinary Skills (CHT)
8 month college certificate including a practicum
Tuition: $13,821.00 CAD/year
Starting semester: September
Min IELTS overall: 6 (Min Listening: 5.5, Min Reading: 5.5, Min Speaking: 5.5, Min Writing: 5.5)
Georgian College in Barrie, Ontario
College Diploma – Culinary Management (CULN) (Co-op)
2 year college diploma including 4 months of co-op
Tuition: $13,876.00 CAD/year
Starting semester: September
               Min IELTS overall: 6
Okanagan College – Kelowna, British Columbia
                  College Diploma – Culinary Management (Co-op)
                    2 year college diploma including 10 weeks of co-op
                   Tuition: $13,984.00 CAD/year
                   Starting semester: August
                   Min IELTS overall: 6 (Min Listening: 6.0, Min Reading: 6.0, Min Speaking: 6.0, Min Writing: 6.0)
North Island College in Campbell River, British Columbia
                        College Diploma – Culinary Business Operations (Co-op)
                           2 year college diploma including 4 months of co-op
                           Tuition: $14,200.00 CAD/year
            Starting semester: September
            Min IELTS overall: 6 (Min Listening: 5.5, Min Reading: 6.0, Min Speaking: 5.5, Min Writing: 6.0)
Algonquin College in Ottawa, Ontario
                        College Diploma – Culinary Management
                            2 year college diploma including a field placement
                            Tuition: $14,203.00 CAD/year
            Starting semester: May
Min IELTS overall: 6 (Min Listening: 5.5, Min Reading: 5.5, Min Speaking: 5.5, Min Writing: 5.5)
Loyalist College in Belleville, Ontario
College Diploma – Culinary Management (CULM)
2 year college diploma
Tuition: $14,332.00 CAD/year
Starting semester: September
Min IELTS overall: 6 (Min Listening: 6.0, Min Reading: 6.0, Min Speaking: 6.0, Min Writing: 6.0)
Any 1 band may have a minimum of 5.5 instead
Lethbridge College in Lethbridge, Alberta
College Diploma – Culinary Careers
16 month college diploma including a practicum
Tuition: $14,460.00 CAD/year
Starting semester: August
Min IELTS overall: 6 (Min Listening: 6.0, Min Reading: 6.0, Min Speaking: 6.0, Min Writing: 6.0)
Fanshawe College in Downtown, London, Ontario
                College Diploma – Culinary Management (CLM4)
2 year college diploma including a field placement
Tuition: $16,534.00 CAD/year
Starting semester: September
Min IELTS overall: 6 (Min Listening: 5.5, Min Reading: 5.5, Min Speaking: 5.5, Min Writing: 5.5)
Lawrence College in Kingston, Ontario
                     College Diploma – Culinary Management (1003)
2 year college diploma
Tuition: $14,600.00 CAD/year
Starting semester: September
Min IELTS overall: 6 (Min Listening: 5.5, Min Reading: 5.5, Min Speaking: 5.5, Min Writing: 5.5)
Sault College – Sault Ste. Marie, Ontario
College Diploma – Culinary Management (Co-op) (2078)
2 year college diploma including 4 months of co-op
Tuition: $15,181.00 CAD/year
Starting semester: September
Min IELTS overall: 6 (Min Listening: 5.5, Min Reading: 5.5, Min Speaking: 5.5, Min Writing: 5.5)
George Brown College in St. James ,Toronto, Ontario
College Diploma – Culinary Management (H100)
2 year college diploma including an externship
Tuition: $15,190.00 CAD/year
Starting semester: September
Min IELTS overall: 6 (Min Listening: 5.5, Min Reading: 5.5, Min Speaking: 5.5, Min Writing: 5.5)
Niagara College in Niagara-on-the-Lake, Ontario
                College Diploma – Culinary Management (0435) (Co-op)
                2 year college diploma including 4 months of co-op
                   Tuition: $15,300.00 CAD/year
                    Starting semester: September
                    Min IELTS overall: 6 (Min Listening: 5.5, Min Reading: 5.5, Min Speaking: 5.5, Min Writing: 5.5)
Centennial College in Toronto, Ontario
            College Diploma – Culinary Management (1811)
              2 year college diploma including a field placement
              Tuition: $15,386.00 CAD/year
               Starting semester: May
               Min IELTS overall: 6 (Min Listening: 5.5, Min Reading: 5.5, Min Speaking: 5.5, Min Writing: 5.5)
Assiniboine Community College in Brandon, Manitoba
College Diploma – Culinary Arts – North Hill Campus (Brandon)
2 year college diploma
Tuition: $16,630.00 CAD/year
 Starting semester: September
Min IELTS overall: 6.5 (Min Listening: 6.0, Min Reading: 6.0, Min Speaking: 6.0, Min Writing: 6.0)
Red River College Polytechnic in Winnipeg, Manitoba
College Diploma – Culinary Arts (Co-op) (Paterson Global Foods Institute)
2 year college diploma including 8 months of co-op
Tuition: $16,851.00 CAD/year
Starting semester: January
Min IELTS overall: 6.5 (Min Listening: 6.5, Min Reading: 6.5, Min Speaking: 6.5, Min Writing: 6.0)
Clair College in Windsor, Ontario
College Diploma – Culinary Management (B395)
2 year college diploma
Tuition: $16,856.00 CAD/year
Starting semester: September
Min IELTS overall: 6 (Min Listening: 5.5, Min Reading: 5.5, Min Speaking: 5.5, Min Writing: 5.5)
Vancouver Island University in Nanaimo, British Columbia
University Diploma – Culinary Management (Co-op)
2 year university diploma including 4 months of co-op
Tuition: $17,375.00 CAD/year
Starting semester: February
Min IELTS overall: 6.5 (Min Listening: 6.0, Min Reading: 6.0, Min Speaking: 6.0, Min Writing: 6.0)
Vancouver Community College in Vancouver, British Columbia
College Diploma – Culinary Arts
2 year college diploma including a practicum
Tuition: $19,918.00 CAD/year
Starting semester: May
Min IELTS overall: 5.5 (Min Listening: 5.0, Min Reading: 5.0, Min Speaking: 5.0, Min Writing: 5.0)
Northern Alberta Institute of Technology (NAIT) in Edmonton, Alberta
College Diploma – Culinary Arts – Cooking
2 year college diploma including a work placement
Tuition: $21,168.00 CAD/year
Starting semester: September
Min IELTS overall: 6.5 (Min Listening: 5.0, Min Reading: 5.0, Min Speaking: 5.0, Min Writing: 5.0)
Southern Alberta Institute of Technology in Calgary, Alberta
College Diploma – Culinary Arts
2 year college diploma including an internship
Tuition: $23,129.00 CAD/year
Starting semester: September
Min IELTS overall: 6 (Min Listening: 6.0, Min Reading: 6.0, Min Speaking: 6.0, Min Writing: 6.0)
LaSalle College in Vancouver, British Columbia
College Diploma – Culinary Arts (CUL2)
1 year college diploma including a practicum
Tuition: $33,000.00 CAD/year
Starting semester: April
Min IELTS overall: 5.5
Advanced College Diploma – Culinary Arts & Restaurant Ownership (CARO)
18 month advanced diploma including a practicum
Tuition: $24,750.00 CAD/year
Starting semester: April
Min IELTS overall: 5.5
LBPSB – PACC Career Centre in Montreal, Quebec
Diploma of Vocational Studies – Culinary Arts Specialist
18 month diploma of vocational studies including 190 hours of co-op
Tuition: $27,100.00 CAD/year
Starting semester: October
Min IELTS overall: 5 (Min Speaking: 5.5)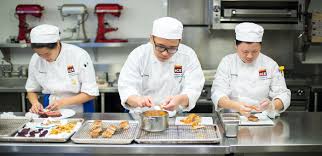 1.   New Brunswick Community College in Moncton, New Brunswick
College Certificate – Culinary Arts
1 year college certificate including a practicum
Tuition: $9,468.00 CAD/year
Starting semester: September (Fall)
Minimum IELTS: Min IELTS overall: 6 (Min Listening: 5.5, Min Reading: 5.5, Min Speaking: 5.5, Min Writing: 5.5)
2.    Canadore College in North Bay, Ontario
College Certificate – Culinary Skills – Chef Training
8 month college certificate
Tuition: $13,180.00 CAD/year
Starting semester: September (Fall)
Min IELTS overall: 5.5 (Min Listening: 5.0, Min Reading: 5.0, Min Speaking: 5.0, Min Writing: 5.0)
3.   Conestoga College in Waterloo, Ontario
College Certificate – Culinary Skills – Chef Training (1025C) (Co-op)
      1 year college certificate including 4 months of co-op
       Tuition: $13,350.00 CAD/year
       Starting semester: September
       Min IELTS overall: 6 (Min Listening: 5.5, Min Reading: 5.5, Min Speaking: 5.5, Min Writing: 5.5)
4.   Humber College in Toronto, Ontario
Chef course in Toronto, Canada
College Certificate – Culinary Skills (14071)
8 month college certificate including an optional 7 week work placement
Tuition: $13,452.00 CAD/year
Starting semester: September
Min IELTS overall: 6 (Min Listening: 5.5, Min Reading: 5.5, Min Speaking: 5.5, Min Writing: 5.5)
5.   Fleming College in Peterborough, Ontario
College Certificate – Culinary Skills (CHT)
8 month college certificate including a practicum
Tuition: $13,821.00 CAD/year
Starting semester: September
Min IELTS overall: 6 (Min Listening: 5.5, Min Reading: 5.5, Min Speaking: 5.5, Min Writing: 5.5)
6.   Georgian College in Barrie, in owen sound Ontario
College Certificate – Culinary Skills (CULI)
1 year college certificate
Tuition: $13,876.00 CAD/year
               Min IELTS overall: 6
7.   Okanagan College in Kelowna, British Columbia
College Certificate – Culinary Arts (Co-op)
1 year college certificate including 10 weeks of co-op
Tuition: $16,640.00 CAD/year
Starting semester: August
Min IELTS overall: 6 (Min Listening: 6.0, Min Reading: 6.0, Min Speaking: 6.0, Min Writing: 6.0)
8.   North Island College in Campbell River, British Columbia
                        College Certificate – Culinary Business Operations (Co-op)
                           1 year college certificate including 4 months of co-op
                           Tuition: $14,200.00 CAD/year
            Starting semester: September
            Min IELTS overall: 6 (Min Listening: 5.5, Min Reading: 6.0, Min Speaking: 5.5, Min Writing: 6.0)
9.   Algonquin College in Ottawa, Ontario
                        College Certificate – Culinary Skills
                        1 year college certificate including a field placement
                            Tuition: $14,203.00 CAD/year
            Starting semester: May
Min IELTS overall: 6 (Min Listening: 5.5, Min Reading: 5.5, Min Speaking: 5.5, Min Writing: 5.5)
10.                Loyalist College in Belleville, Ontario
College Certificate – Culinary Skills (CULS)
1 year college certificate
Tuition: $14,332.00 CAD/year
Starting semester: September
Min IELTS overall: 6 (Min Listening: 6.0, Min Reading: 6.0, Min Speaking: 6.0, Min Writing: 6.0)
Any 1 band may have a minimum of 5.5 instead
11.                Fanshawe College in Downtown, London, Ontario
College Certificate – Culinary Skills (CHF2)
1 year college certificate
Tuition: $14,467.00 CAD/year
Starting semester: May
Min IELTS overall: 6 (Min Listening: 5.5, Min Reading: 5.5, Min Speaking: 5.5, Min Writing: 5.5)
12.                St. Lawrence College in Kingston, Ontario
College Certificate – Culinary Skills (1004)
8 month college certificate
Tuition: $14,600.00 CAD/year
Starting semester: September
Min IELTS overall: 6 (Min Listening: 5.5, Min Reading: 5.5, Min Speaking: 5.5, Min Writing: 5.5)
13.                Sault College – Sault Ste. Marie, Ontario
College Certificate – Culinary Skills – Chef Training (1071)
8 month college certificate
Tuition: $15,181.00 CAD/year
Starting semester: September
Min IELTS overall: 6 (Min Listening: 5.5, Min Reading: 5.5, Min Speaking: 5.5, Min Writing: 5.5)
14.                George Brown College in St. James ,Toronto, Ontario
Chef course in Toronto, Canada
College Certificate – Culinary Skills (H134)
1 year college certificate including a field placement
Tuition: $15,190.00 CAD/year
Starting semester: September
Min IELTS overall: 6 (Min Listening: 5.5, Min Reading: 5.5, Min Speaking: 5.5, Min Writing: 5.5)
15.                Niagara College in Niagara-on-the-Lake, Ontario
                College Certificate – Culinary Skills (0454)
                1 year college certificate
                   Tuition: $15,300.00 CAD/year
                    Starting semester: September
                    Min IELTS overall: 6 (Min Listening: 5.5, Min Reading: 5.5, Min Speaking: 5.5, Min Writing: 5.5)
16.                Centennial College in Toronto, Ontario
Chef course in Toronto, Canada
            College Certificate – Culinary Skills (1812)
              1 year college certificate
              Tuition: $15,386.00 CAD/year
               Starting semester: May
               Min IELTS overall: 6 (Min Listening: 5.5, Min Reading: 5.5, Min Speaking: 5.5, Min Writing: 5.5)
17.                Thompson Rivers University in  Kamloops, British Columbia
University Certificate – Culinary Arts – Professional Cook Levels 1 and 2
2 year university certificate including a work placement
Tuition: $16,027.00 CAD/year
Starting semester: August
Min IELTS overall: 6.5 (Min Listening: 6.0, Min Reading: 6.0, Min Speaking: 6.0, Min Writing: 6.0)
18.                Manitoba Institute of Trades and Technology in Winnipeg, Manitoba
College Certificate – Culinary Arts and Design
10 month college certificate including a work practicum
Tuition: $16,400.00 CAD/year
Starting semester: August
Min IELTS overall: 6 (Min Listening: 5.5, Min Reading: 5.5, Min Speaking: 5.5, Min Writing: 5.5)
19.                Red River College Polytechnic in Winnipeg, Manitoba
College Certificate – Culinary Skills (Co-op) (Paterson GlobalFoods Institute)
1 year college certificate including 4 months of co-op
Tuition – $16,898.00 CAD/year
Min IELTS overall: 6.5 (Min Listening: 6.5, Min Reading: 6.5, Min Speaking: 6.5, Min Writing: 6.0)
20.                Vancouver Island University in  Nanaimo, British Columbia
University Certificate – Culinary Arts – Professional Cook Training (Co-op)
1 year university certificate including 2 months of co-op
Tuition: $22,935.00 CAD/year
Starting semester: February
Min IELTS overall: 6.5 (Min Listening: 6.0, Min Reading: 6.0, Min Speaking: 6.0, Min Writing: 6.0)