applying for university in canada

Every year millions of ambitious people move to a different country to study abroad. Just like them, you have big dreams and will work hard to reach your goals in life.
But, do you have all the answers to your study abroad questions?
Express Lane Immigration, a RCIC licensed Canadian immigration agency is your Go-To place to get answers.
Here are the many ways we can help students who want to study abroad:
– Access to IELTS and English tutors in your city or abroad
– Admission to 1000's of study programs in Canada, USA, UK and Australia**
– Visa application processing
– Work permit and PR guidance after finishing
**Our specialty is Canadian education, but we offer to these countries listed
Every immigration agent in your city probably does these things. What makes us so unique?
1) According to the laws in Canada, only a lawyer or a licensed immigration consultant can assist in immigration matters. The founder of Express Lane Immigration, Sorell Sonara, is a Regulated Canadian Immigration Consultant. RCIC members follow strict rules to keep the client safe from all the fraud that is common in this industry.
Your safety is guaranteed because we hate FRAUD.
2) Being based in Canada gives us 1st hand experience of Canadian life and knowledge of the education/labor market. Other agents who have no ties to Canada will give you information from GOOGLE. Also, many companies only care about putting students in programs that put the most money in their pockets.
Find the best program to match your previous experiences and future goals and get our exclusive insider knowledge about the Canadian experience that other companies CANNOT give you.
We help students just like you. Here is one student testimonial.
A.S was a highly qualified individual from India who wanted to study in Canada. He got an offer letter from the University of Calgary for a Post-graduate program. He had many questions about coming alone or with his family, questions about permanently settling in Canada and others that we were able to answer.
We helped him come with his wife and young child to make his study abroad dreams come true. Here is what he says about us:
Sorell (Express Lane Immigration) is highly professional and dependable. He will ensure transparency of communication and honesty while dealing with the clients and their immigration questions. Go for Sorell (Express Lane Immigration)!
Like A.S, let us help you make your study dreams come true. We have access to 100's of colleges and 1000's of programs that are perfect for you. Look at the sample list of colleges below.
Our company deals with all types of immigration matters. To read some of what other satisfied clients say about us click here.
Seats fill up fast. Act now to get the best seats for your top choices for the upcoming semester.
FREE E-book "The Sweet and Simple Guide to Studying in Canada". It is filled with information about the admission process, study visa, post graduate work permit and getting your PR.
and get your free Guide to Studying in Canada today!
https://forms.gle/SKxACjSRo8vHuwpn7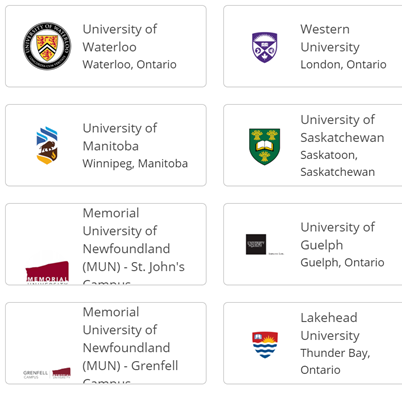 List of colleges:
Colleges and University in Canada
University of Waterloo
Western University
Imperial College
University of Manitoba
University of Saskatchewan
Ryerson University
University of Windsor
University of New Brunswick
University of Regina
Wilfred Laurier University
Brock University
University of Lethbridge
Trent University
Lakehead University
Thompson Rivers University
Bishop's University
Cape Breton University
Trinity western University
Vancouver Island University
Algonquin College
Humber College
Sheridan College
Kwantlen Polytechnic
Okanagan College
Conestoga College
Niagara College
Centennial College
Algoma University
Yukon College
Vancouver film School
College of the North Atlantic
Saint Clair College
Medicine Hat College
University of Prince Edward Island
Acadia University
Laurentian University
University of northern British Columbia
British Columbia Institute of Technology
southern Alberta Institute of Technology
Saskatchewan Polytechnic
Mohawk College
Olds College
Seneca College
George Brown
Holland College
Selkirk College
Bow Valley College
Red Deer College
And more…
Canada High Schools
Ottawa Catholic School Board
peel district School Board
York Region
Notre Dame secondary School
Holy Trinity Catholic School
Calgary Board of Education
Alexander Academy
Unisus School
Birmingham international Colleges of Canada
Maple high School
Victoria School
Vimy Ridge Academy
And more…
USA Colleges and Universities
University of California
John Hopkins University
Arizona State University
University of Utah
University of Illinois
Colorado State University
Oregon State University
University of South Florida
University of Kansas
Washington State University
University of South Carolina
University of Alabama
Louisiana State University
University of Central Florida
University of Colorado
Florida International University
northeastern University
University of Vermont
Kansas State University
Baylor University
University of Mississippi
Montana State University
University of Idaho
University of Nevada
Northern Arizona University
San Francisco State University
University of Massachusetts
Western Michigan University
San Jose State University
James Madison University
Cleveland State University
Wichita State University
University of Tulsa
Pace University
Long Island University
New York Tech
California State University
Troy University
Ross University School of veterinary Medicine
Kings College
Santa Monica College
mercy College
Concordia University
New York film Academy
Seattle Central College
Florida Polytechnic University
East Coast Polytechnic Institute
American University of the Caribbean School of Medicine
And more…