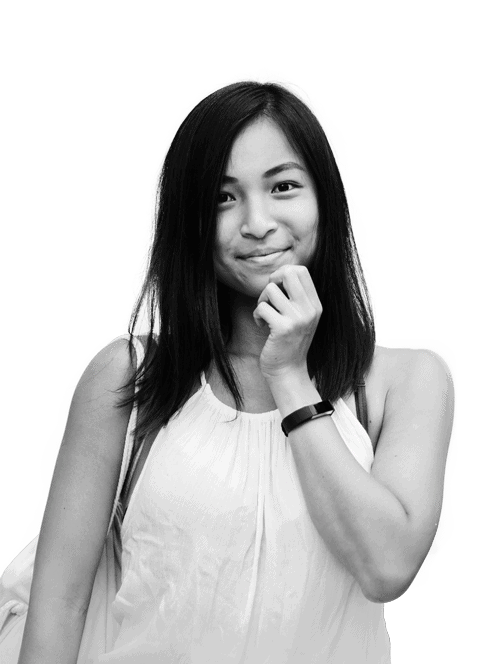 Post Graduate Working Permit Eligibility | Requirements
IMPORTANT: Whether you are in Edmonton or a different city in Alberta, in Canada or even in a different country, we can help you with Applying for a PGWP.
LOCATION DOES NOT MATTER. Please call us now.
S
o, you have finally graduated from studying in Canada and are looking for options on working and staying in Canada permanently.
Your study permit will expire 90 days after graduation and you will need to do one of the following things:
•Apply for a new study permit to continue in a different program
•Change status to a visitor (apply for a visitor record)
•Apply for a Post Graduate Working Permit
•Leave Canada
Note
: Not all colleges and programs can give you a PGWP. See if your institute is
eligible here
.
Post Graduate Work Permit
The ability to get this work permit is something that distinguishes international education in Canada compared to other countries. Depending on the length and type of your education in Canada you are eligible to receive this special visa.
The PGWP length of validity is as follows.
If you studied in a program less than 8 months, you are not eligible for a PGWP.
If you studied in a program greater than 8 months but less than 2 years, you are eligible for a PGWP for the same length period. For example, if you studied for 1.5 years, you would receive a work permit for 1.5 years.
For any periods of study greater than or equal to 2 years of an academic program you will receive a PGWP for 3 years.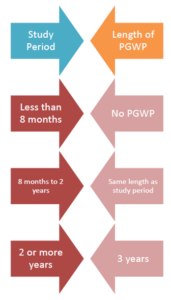 Duration of study and length of a PGWP
When to Apply for a PGWP?
You can officially apply for a Post Graduate Working Permit after you receive an official program completion letter from your school
and
an official transcript.
Apply within 180 days after you get your final transcript. Your study permit should be valid sometime during those 180 days but does not need to be active when you actually apply.
IMPORTANT: You can only apply for a PGWP one time. I
f you want to maximize the length of your PGWP then make sure to have studied for a total of 2 years to get a 3 year permit.
If your study permit has expired, you can restore your status as a student, restore it as a visitor or leave Canada and apply for a PGWP from a different country.
Do you need a Letter of Explanation for PGWP?
Yes, it is advisable to submit a letter of explanation with your PGWP application. There is no standard format or template for this letter because each person is different. Explain your education journey in Canada, the length of the program, any dropped or withdrawn classes and anything else that might cause an immigration officer doubt and confusion. Your primary goal is to properly explain the length of your program because that is what determines the length of the PGWP.
PGWP Implied Status
While you wait for your Post Graduate Work Permit to process, you
can work fulltime
if your study permit was valid when you submitted your PGWP application.
Your employer might ask for proof that you can continue working. Show them the acknowledgement of receipt for your PGWP online application as you wait for the CIC decision.
PGWP Cost
The cost is $155 for a work permit plus $100 for the open work permit holder for a total of $255 payable in the online application portal. Biometric fees might apply if not taken in the past.
Travelling Outside and Coming Back to Canada with a PGWP
Neither your study permit nor your PGWP can allow you re-entry into Canada. It is based on the visa stamp in your passport (Temporary Resident Visa). If it is expired, you need to apply for a new one which can be done from inside Canada for students and workers.
If you travelled outside of Canada while your PGWP is in process, you will need to show the border officer your active TRV and proof of applying for a PGWP for re-entry into Canada